RALEY FIELD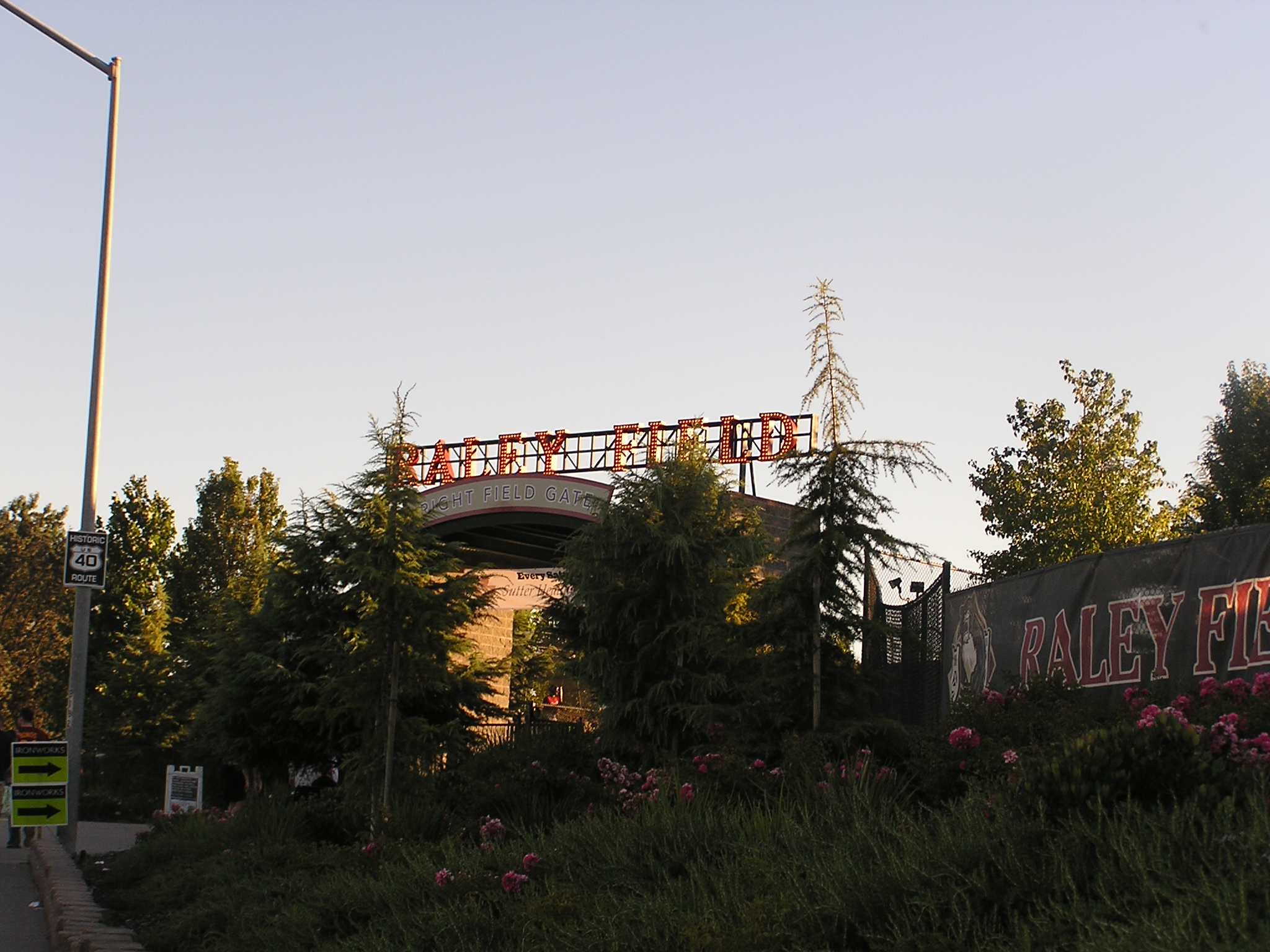 TEAM ::: SACRAMENTO RIVER CATS
LOCATION ::: WEST SACRAMENTO, CALIFORNIA
MY FIRST VISIT ::: AUGUST 4, 2007
OPPONENT ::: NEW ORLEANS ZEPHYRS
LEVEL ::: PACIFIC COAST LEAGUE 'AAA'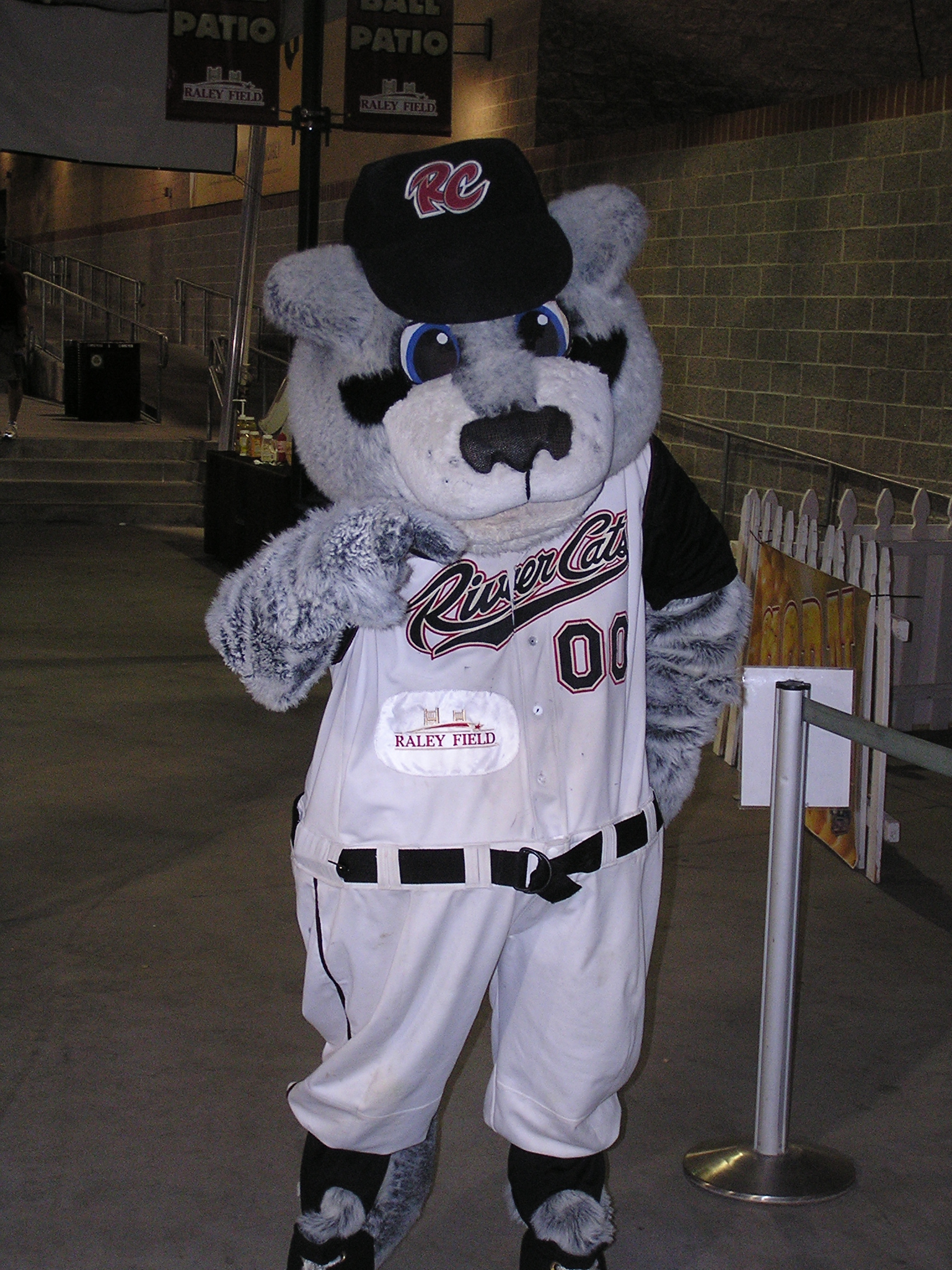 RATINGS
BALLFIELD :: A
SCOREBOARD :: A
FOOD :: A-
FACILITIES :: B+
MASCOT ::: A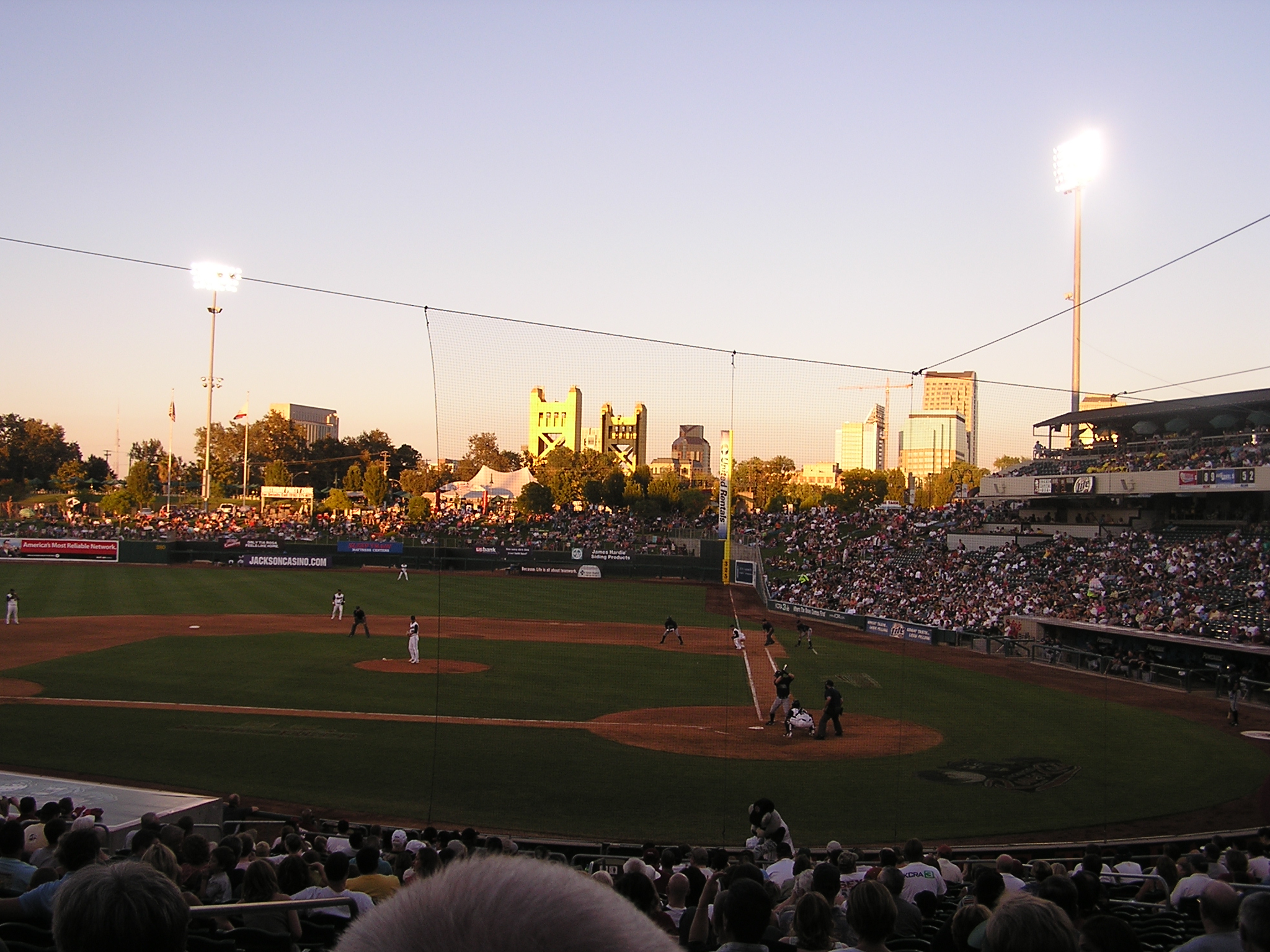 MY TAKE ON THE PARK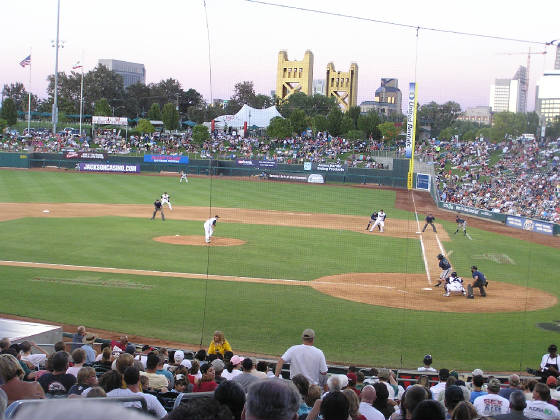 SITUATED WEST OF DOWNTOWN SACRAMENTO ACROSS THE RIVER SITES RALEY FIELD. THE NAME RALEY IS FROM A LOCAL SUPERMARKET CHAIN SPONSORS THE PARK. SOMETIMES A SPONSOR CAN IMPOSE THEIR WILL ON A STADIUM, THIS DOES NOT HAPPEN HERE.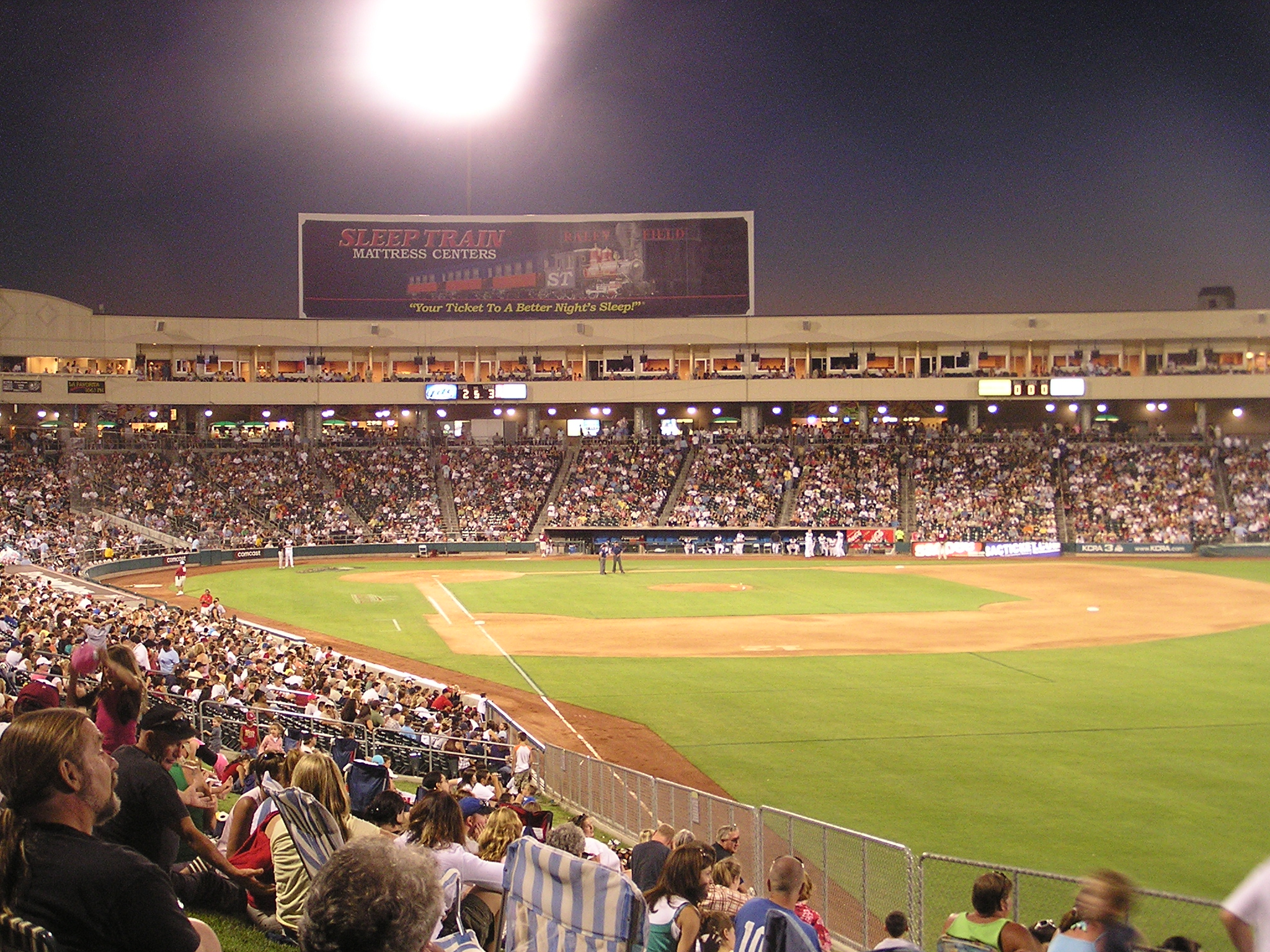 SADLY THOUGH, THIS TYPE OF STADIUM IS THE STANDARD CURRENT ARCHITECHTURE AND WITH A SYMETRICAL FIELD AND SEATING BOWL, ONE HAS TO HOPE THE RIVER CATS DO SOMETHING MORE THAN JUST PUT ON A GAME IN FRONT OF A PACKED HOUSE. AS AN ASIDE, A PACKED HOUSE WILL MOST LIKELY BE WHAT YOU FIND HERE, THE RIVER CATS ARE ONE OF THE BEST DRAWS IN THE ENTIRE MINOR LEAGUES.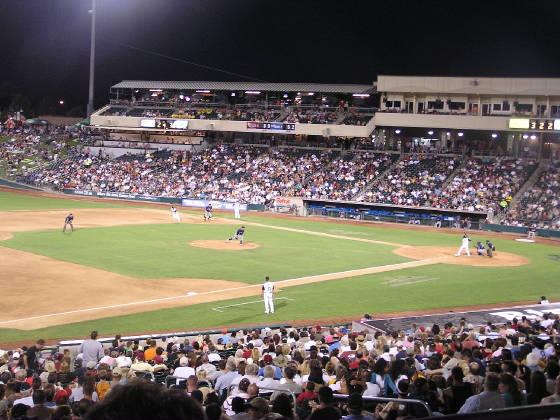 BECAUSE OF THE ATTENDANCE, ONE OF THE DRAWBACKS IS THE RIVER CATS CAN CHARGE A PRETTY HIGH PRICE FOR TICKETS. I WAS SURPRISED TO SEE I WOULD BE PAYING ALMOST $15 FOR A NON PREMIUM SEAT. ASIDE FROM THE TICKET, FOOD PRICES ARE KIND OF HIGH TOO. THE THING SACRAMENTO HAS FIGURED OUT AND SOMETHING I SAW IN THE BAY AREA AS WELL, CHARGE A COUPLE OF DOLLARS MORE FOR FOOD BUT MAKE IT SO YOU WILL BE FULL AFTER YOU EAT. ORDERING A HOT DOG HERE FOR $7 SEEMS LIKE A LOT UNTIL YOU SEE WHAT IS SERVED TO YOU. A 1 AND A ½ FOOT DOG COMES ACROSS THE COUNTER OR $6.75 FOR A PULLED PORK SANDWICH WHICH LOOKED LIKE A NY DELI SANDWICH THE PORK WAS PILED SO HIGH.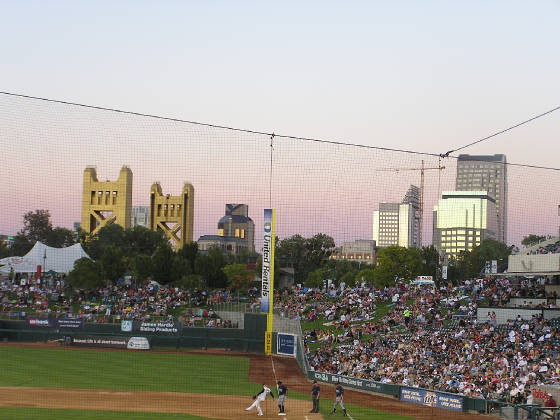 AS FOR THE OTHER ASPECTS OF THE PARK, THE GAME IS PLAYED ON A PERFECT FIELD AND HANDLED VERY WELL. THE SCOREBOARD IN THE LEFT FIELD WALL AS WELL AS THE MAIN SCOREBOARD IN CENTER REMINDED ME OF THE OUTFIELD IN MEMPHIS WITH THE CAMDEN YARDS LIKE CLOCK PRIOR TO THE GAME IN LEFT AND THE TOWERING BOARD IN CENTER.
OVER THE RIGHT FIELD WALL THE RIVER CATS HAVE LEFT EMPTY, FOR A VERY GOOD REASON. AS NIGHT FALLS UPON THE PARK, THE TOWERS BRIDGE LIGHTS UP IN GOLD TO GIVE A FINE COMPLETE BACKDROP FOR THIS PARK.
RALEY FIELD WAS BUILT TO TAKE CARE OF ALL FANS. THE MAIN SEATING AREA IS COMFORTABLE AND OFFERS GOOD VIEWS OF THE WHOLE FIELD FOR THE BASEBALL FAN. DOWN THE LEFT FIELD LINE THERE IS A PICNIC AREA WHICH SERVES BARBECUE, HAMBURGERS, AND HOT DOGS FOR YOUR HUNGRY FANS. THERE ARE ALSO PICNIC TABLES WITH A VIEW OF THE FIELD SO YOU DON'T END UP SPILLING SOME OF THAT PULLED PORK SANDWICH ONTO UNSUSPECTING FANS AS YOU RETURN FROM THE CONCESSIONS.
FINALLY, ENOUGH CANNOT BE SAID ABOUT THE SERVICE OF THE STAFF OF THE RIVER CATS. EVERYONE WAS FRIENDLY AND WELCOMED ME TO THE PARK. SIMPLE THINGS LIKE THAT ALONG WITH A COMFORTABLE ATMOSPHERE MAKE THIS PARK WEST OF DOWNTOWN SACRAMENTO AN ENJOYABLE NIGHT OUT.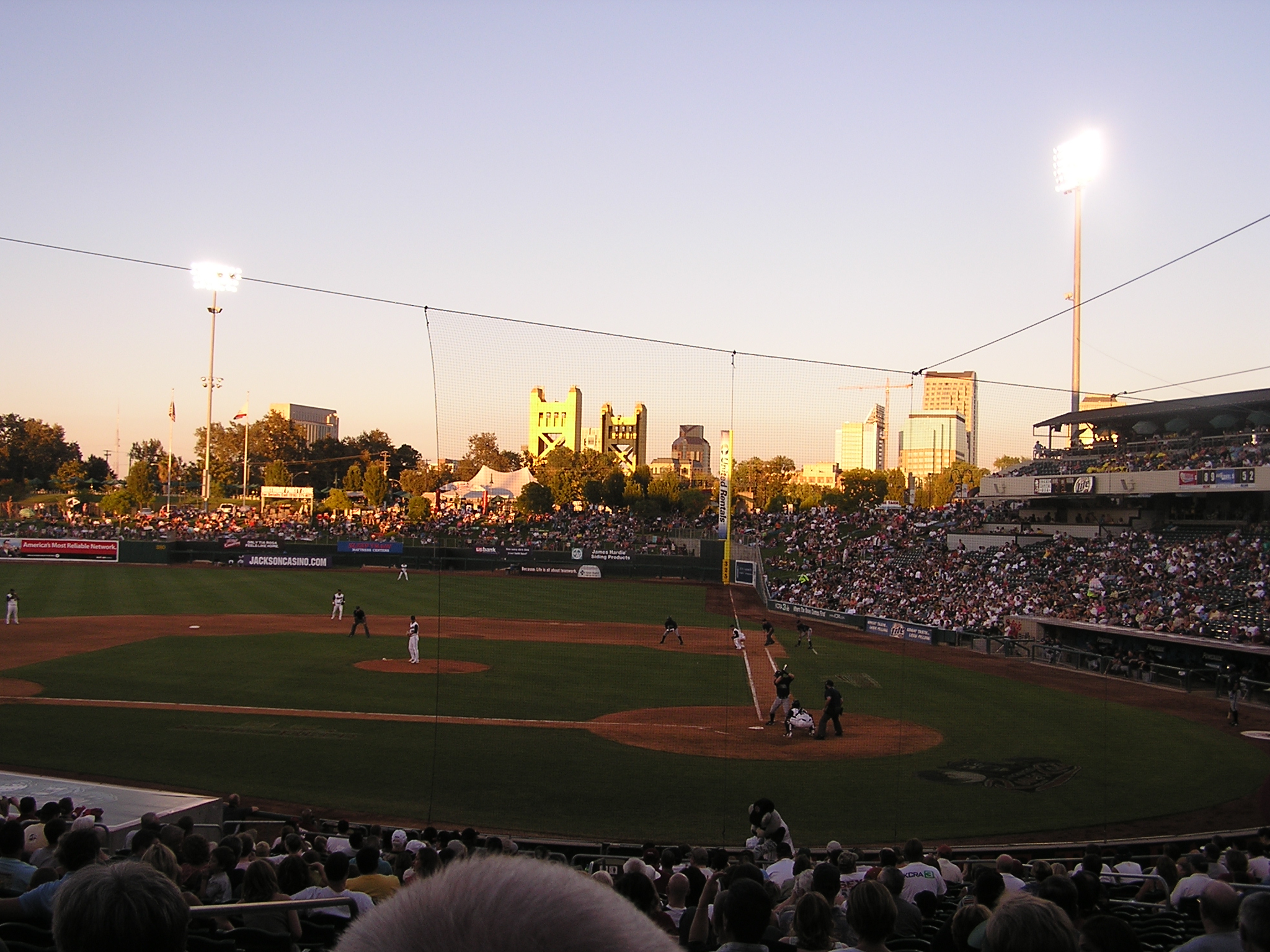 THE LINE UPS
NEW ORLEANS ZEPHYRS MANAGER :::
24 Ken Oberkfell
SACRAMENTO RIVER CATS :::
11 Tony DeFrancesco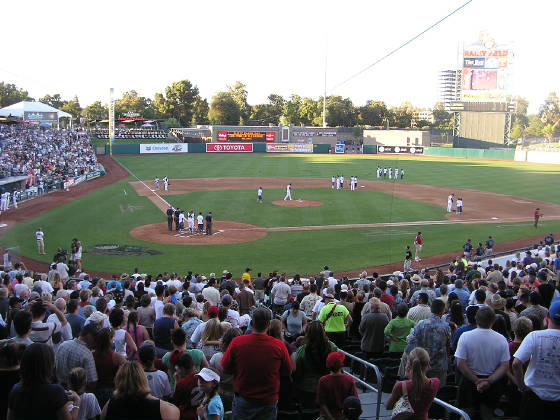 NEW ORLEANS ZEPHYRS
12 Anderson Hernandez ss
8 Fernando Tatis 3b
30 Jason Alfaro rf
29 Andy Tracy 1b
7 Chip Ambres lf
3 Jake Gautreau 2b
25 Sandy Alomar Jr dh
27 Robinson Cancel c
23 Jesus Feliciano cf
47 Dave Williams p / WP
SACRAMENTO RIVER CATS
16 Nick Blasi cf
31 Danny Putnam rf
10 Daric Barton 1b
44 Dee Brown lf
17 Jorge Piedra dh
20 J D Closser c
9 Lou Merloni 2b
5 Kevin Melillo 3b
21 Gregorio Petit ss
35 Michael Madsen p / LP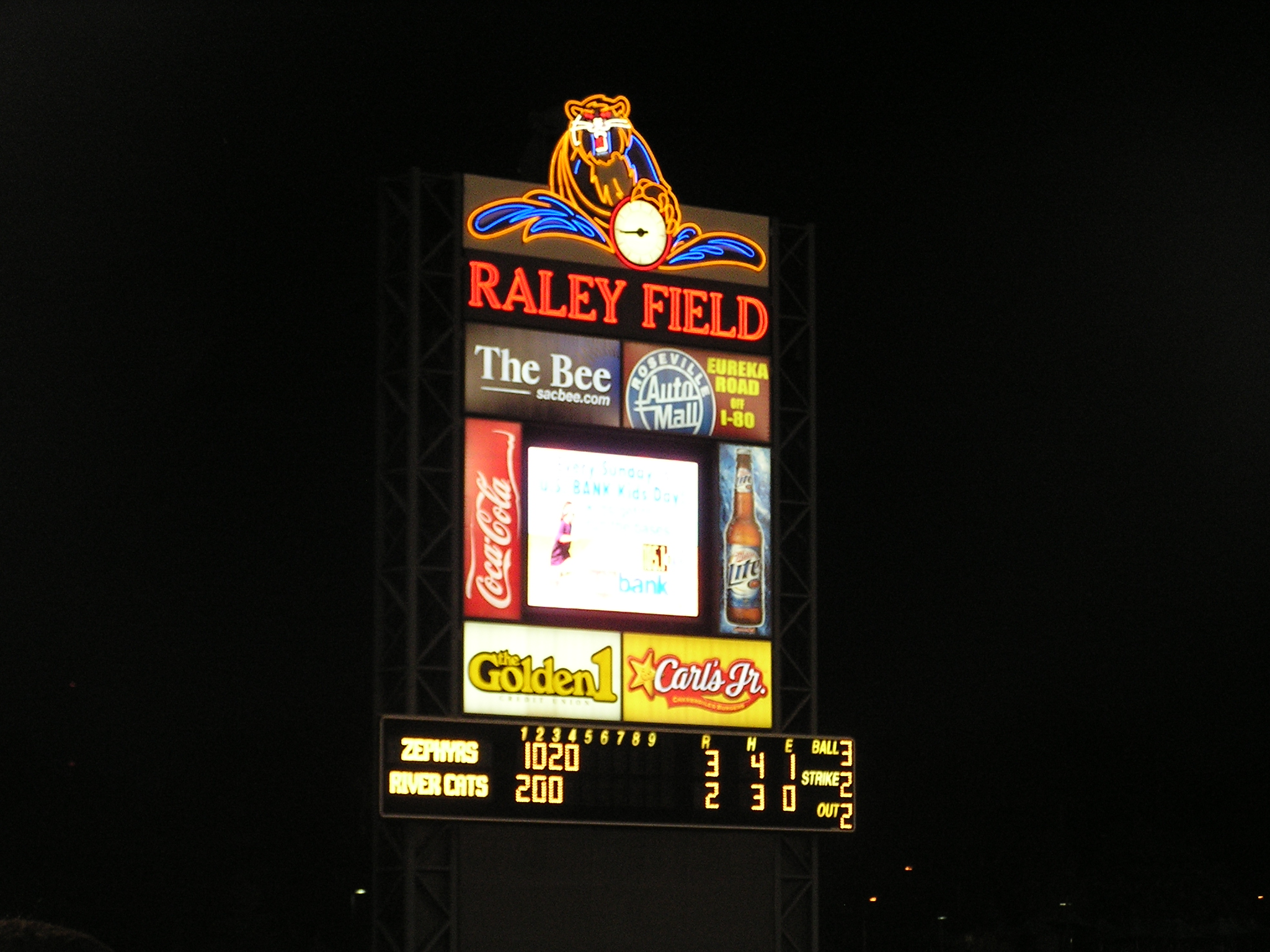 ZEPHYRS 102 024 000 9 9 1
RIVER CATS 200 020 100 5 7 1
TIME ::: 3:03
ATTENDANCE ::: 13,546
WEATHER ::: CLEAR SUNNY CALIFORNIA
SEND ME AN E-MAIL

L I N K S
The Official site of the Sacramento River Cats
The City of West Sacramento site
The UnOfficial Eight is Enough web site - The show took place in Sacramento
West Sacramento weather from WEATHER.com

© 2000-2012 UNCLE BOB'S BALLPARKS I AM IN NO WAY AFFILIATED WITH ANY OF THE TEAMS ON THIS PAGE ... THIS PAGE IS MEANT FOR INFORMATION PURPOSES ONLY.